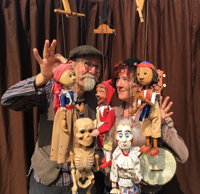 25 May
Newbury Spring Festival presents:
The Mystery of Memory Lane - Hand to Mouth Theatre
11:00am

The Corn Exchange, Market Place, Newbury RG14 5BD
£5 all seats, Under 5s free.
Another delight from Hand to Mouth Theatre, and a chance to remember forgotten fun and make new memories with all the family!
This warm and nostalgic show is based around a Bric-a Brac market stall where Mr Shabby and Mrs Chic try to teach a new dog old tricks and solve the Mystery of Memory Lane.
Telling stories, singing songs, using tin toys, hand-carved marionettes, seaside Punch and Judy puppets and playing vintage musical instruments they eventually restore the memory of the lost Puppet Dog Toby and find out where he belongs.
"A charming doubleact.....there's an easy, particular and charismatic quality to Hand to Mouth that is hard to resist." Polka Theatre, Wimbledon
Tickets: