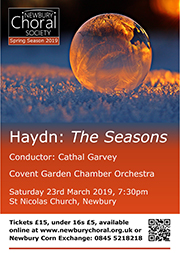 23 March
Newbury Choral Society presents:
Haydn - The Seasons
7:30pm

The Seasons was one of Joseph Haydn's last major works, the first performance being in 1801. As befits the depiction of nature, it is full of light and shade, joy and foreboding, tranquillity and turbulence as humans and nature interact. The work is divided into four sections, each dealing with a particular season. It is related by Lucas, Simon and Jane as soloists, and a chorus of rustics who rejoice in the broaching of the new wine, take part in a rousing hunting chorus and cower beneath the threat of a thunderstorm.
As well as the lyricism and tunefulness for which Haydn is justly famous, he also displays his skill in creating atmospheric 'tone-pictures', such as his depiction of a gentle nightfall, a new dawn or a ploughman whistling (one of Haydn's own tunes!) as he toils away.
Cathal Garvey and Newbury Choral Society look forward to performing this important work from a prolific and innovative composer, together with professional soloists and Covent Garden Chamber Orchestra.


Tickets: