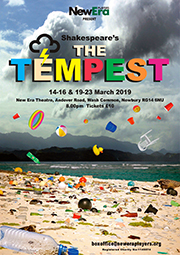 14 Mar - 23 Mar
New Era Players presents:
The Tempest
8:00pm

New Era Theatre, Wash Common RG14 6NU
Oh brave new world?.
Twelve years have passed since Prospero was overthrown. Now the tempest he has conjured up brings his enemies within reach of his island. With a cast of larger than life characters including a monster, a drunken butler and jester, and a mercurial sprite will his magic be strong enough to bring about the revenge he seeks?
Tickets: