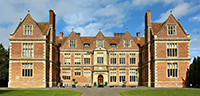 30 March
Shaw House presents:
Iron-fix Silk Painting
Adult Workshop
10:00am
to 1pm
Shaw House, Church Road, Newbury, Berkshire RG14 2DR
Using gutta (outliner) to develop a Spring themed painting, you will learn how to tint and blend iron-fix silk paints to complete your design. You will also use silk paints for an Easter themed card.
All resources will be provided, but please feel free to bring your own designs.
Tutor: Helen Mortimer
£35
Tickets: