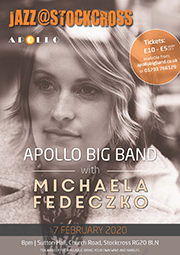 7 February
Apollo Big Band presents:
Apollo Big Band with vocalist Michaela Fedeczko
8:00pm

Stockcross Village, Stockcross, Newbury RG20 8LJ
For the latest in their popular jazz@stockcross concert series, the Apollo Big Band is delighted to welcome professional singer Michaela Fedeczko. Sit back and enjoy a fabulous selection of Big Band tunes, featuring songs made famous by legendary performers such as Ella Fitzgerald, Etta James, Natalie Cole and Billie Holiday. Tea and coffee will be available. Please feel free to bring your own wine, beer and nibbles. The hall will be set up in a jazz club style with tables and chairs.
Tickets: